Once you have had your new deck or backyard walkout built, now comes the time to decide what is the perfect railing or guardrail for your deck railing ideas. Some of the factors to take into consideration when choosing a new railing for your deck are;
Budget
Appearance
Colour
Glass or picket rail
Safety and security
Life expectancy and maintenance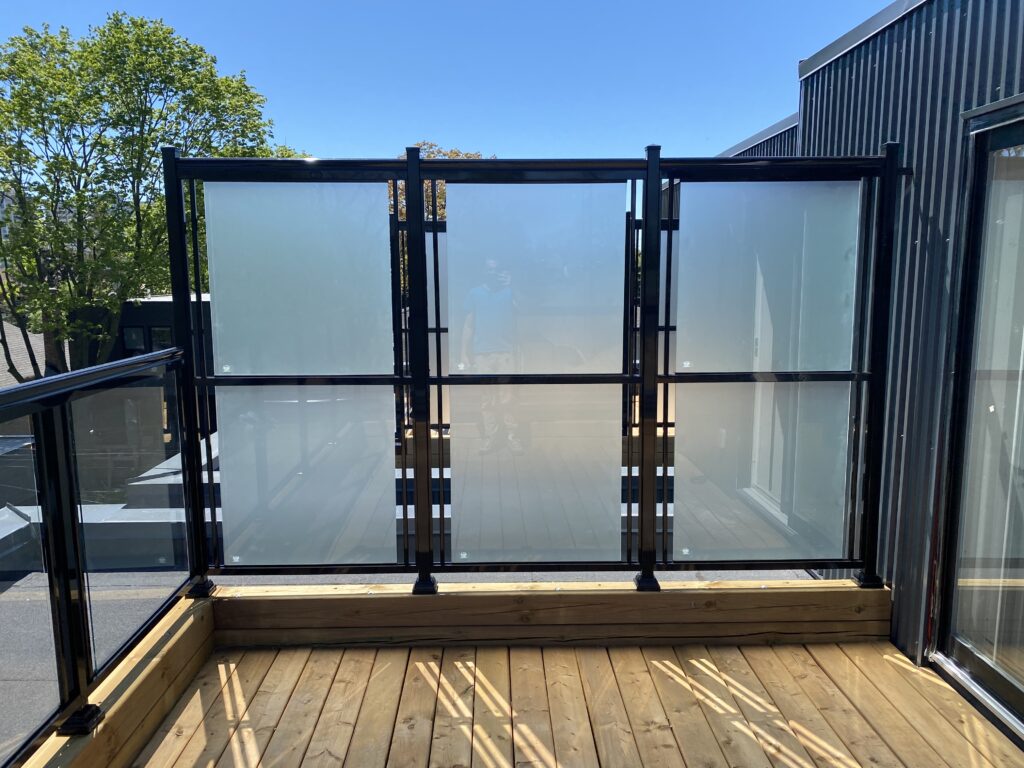 Many new homes are built very close together. Consider a 6' high privacy divider on one or two sides and a clear glass railing for the other to enjoy the view.
Budget for your deck railing ideas
You have many options of railing to choose from when trying to imagine ideas for your new deck railing. Homeowners are often surprised at the cost of a new railing because some styles often cost as much as your new deck or even more. The most affordable option is having your deck builder build a railing out of wood. Secondly would be a vinyl or aluminum railing. Both are relatively in the same price range and offer different features. Each of them offers a different look, depending on your idea or vision for your new deck or back patio railing. Third is iron railing, not typically used on a deck as most homeowners opt for using other materials when visualizing their idea of a new deck railing. Although if you choose to galvanize your iron railing or add very intricate designs, the cost can easily surpass a glass design railing. Last but definitely not least is a glass railing. Modern and elegant, glass railing tops list in terms of price. You can save quite a bit of money by choosing a framed glass railing over a frameless (open edge). When using a glass railing system with exposed edges the glass is thicker for safety, the hardware is larger and more heavy duty and sometimes the installation is more involved. All these factors lead to higher cost. If you choose an aluminum railing with glass, you can really save on a lot of these cost while still having a beautiful and modern glass deck railing.
In order from least to most expensive
Wood
Vinyl or aluminum
Iron
Glass
Black aluminum railing design with double bar and continuous handrail. Simple but elegant. The double bar adds design while still retaining simplicity.
Appearance for your deck railing ideas
A wooden railing built with the deck is the most basic style you can add to your deck. Although it matches the deck by using the same material, it does not do you brand new deck justice. If the space is used for kids or a small side deck for a cottage and your main reason for a railing is simply for safety, then a wood railing will do just fine. Vinyl railing, although not as common as the other options, is a heavy bulky railing. All parts of vinyl railing are oversized. The post, pickets, and handrail are all large in comparison to other railing systems. It does give the appearance of old fashion, bulky wood railing if that is the appearance you are after. The most versatile type of railing is an aluminum railing. With the largest selection of design options and post and picket sizes, aluminum railing is the most versatile design idea for a new deck and backyard patio. Although very rare, iron railing is still an option for your new deck. Typically used on front porches, and interior staircases and walkways, iron railing offers a thinner profile but does give you options for your railing as they can weld pretty much any of your design ideas for your new deck guardrail. If you're look for a high end, ultra-modern look then glass railing is most likely what your design idea would be. Glass railing offers many different options of glass tint and installation hardware. It will provide unobstructed views of your deck or patio as well as your backyard. And it can match or be contrasted with almost any home.
Frameless glass railing with aluminum handrail. Remember, while frameless railing is ok for your landing. You must always have a handrail down any staircase.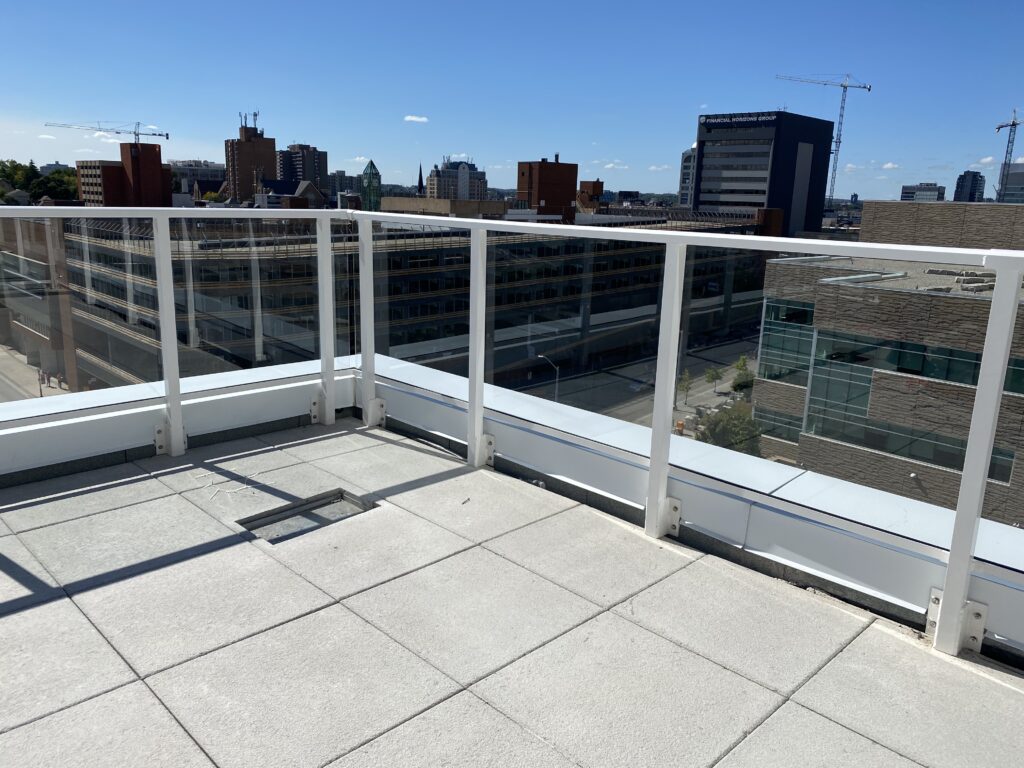 White aluminum railing with full clear glass gives clear views and very clean and fresh feeling
Colour for your deck railing ideas
While wood railing and iron railing can be painted to any colour of your choice, it usually does not turn into the idea of the colour you pictured for your deck. And typically, will only last a short time before it fades, chips away and starts to look old. This is due to the fact that's the paint was applied outdoors with a brush or roller, and not baked or powder coated in the factory. Vinyl railing colours are somewhat limited. Generally only offered in white or tan. The paint finish is typically of good quality but is dull and resembles more an older wood railing. The railing system with the most colour options is aluminum railing. Many companies offer their aluminum railing in 5 or more colours, and even some a wood grain finish. Some examples of aluminum railing colours are;
Black
White
Pewter (gun metal)
Beige
Clay
Cashmere
Commercial brown
The paint used on aluminum railing is bright and can really pop. It resembles the look of a new car and looks even better in the rain or after a fresh wash, as the water and raindrops roll off the railing beautifully. When choosing a glass railing there are many options you must consider. Glass, post, and accessories are available in a wide variety of colours and options. Some examples of glass colours are;
Clear
Bronze
Smoked grey
Super grey (black)
Pinhead (privacy)
And these glass options can paired with different colour accessories and post. So the options are plentiful. You could choose a brilliant white aluminum railing with super grey glass to create great contrast. Or go with a frameless clear glass railing and when clean will give the appearance of no railing at all. Although very beautiful and high end, probably not the best idea for families with dogs or young children as they could easily run into it. And can also be dangerous for birds.
Railing with accessories such as diamond collars and arrow heads add design and value. But take more work to keep clean.
Framed glass railing is very modern, yet affordable. With many options of different railing and glass colour, you're surely able to find one that suits your home if its glass that best fits your idea of a new railing
Glass or picket railing for your deck railing ideas
Both glass and picket railing provide the same level of safety for your deck or backyard patio. The choice is really up to the individual style and ideas of the home owner. Both can be modern or traditional depending on colour and style. Often people, especially children, tend to hang on to and climb picket railing systems more because of the bars, handrails and the sturdiness. The opposite can be said about glass railing. It gets touched less because of a general fear it will break or cut a person. Both of which are false. It is almost impossible to break tempered glass, unless using a tool, or striking it with a very sharp metal point. And the glass edges are always buffed to provide a clean, smooth finish that you can run your hand along. There is no wrong choice. Any brand new railing you choose will instantly upgrade your home. Whether it's a minimal aluminum railing with straight pickets or a frameless intricate glass design, it will really provide that fresh brand new feeling to your space. If you're really have a hard time to decide, then you should consider a railing system that has both glass and pickets or glass and a scroll design. This is a beautiful contrast between aluminum and glass and provides privacy but still allows for wind flow and air circulation.
Frameless glass railing with black aluminum post. Beautiful mix of materials.
Safety and security for your deck railing ideas
This should be the single most important factor when choosing a new railing. All railing-will provide your deck with the safety and security you need provided it was installed in accordance with all local building codes. Ask your contractor or installer some simple questions to ensure they're familiar with your local building codes. Examples of some question would be;
What will the finish height of the railing be?
Are the bolts stainless steel or galvanized?
What is the length of the bolts used to secure the railing?
When do we need to use a 42" high railings?
What is the thickness of the glass being used?
Is the glass safety glass?
Is the glass heat soaked tempered?
What will the spacing of the pickets be?
Is the railing designed with proper drainage?
Even if you're not familiar with the building codes in your area, you can get a good feel if your contractor is by the way he or she answers your questions. Typically railing should be 36" or 42" high depending on the height of your deck from the ground. Decks under 2' typically do not require you to have a railing installed. Framed glass railing should be min 6mm tempered glass and frameless minimum 10mm. if your glass is suspended over an open or high traffic area, then the safest bet is 12mm or laminated glass. Almost all North American building codes require you to have all gaps less than 4". This includes all areas such as, between pickets, between the post or glass at the wall or column, and the underneath of the railing. This is very important because it prevents small animals and children from slipping through the gaps and falling or placing a body part through and then getting stuck.
Once your new railing has been installed, don't be distracted by just its beauty. Inspect your new railing. You don't need to be an engineer to understand the basics. Visually inspect that all screws are properly installed, shake to the railing in different spots to make sure it feels safe and is going to stay that way for years to come. And my favorite trick is to hit the railing and glass with the side of your fist and listen. We are looking for a solid but slightly vibrating sound. What you don't want to hear is any sort of rattling sound. That would tell you that something is loose or certain screws missing that is securing the glass or pickets to the panels or post.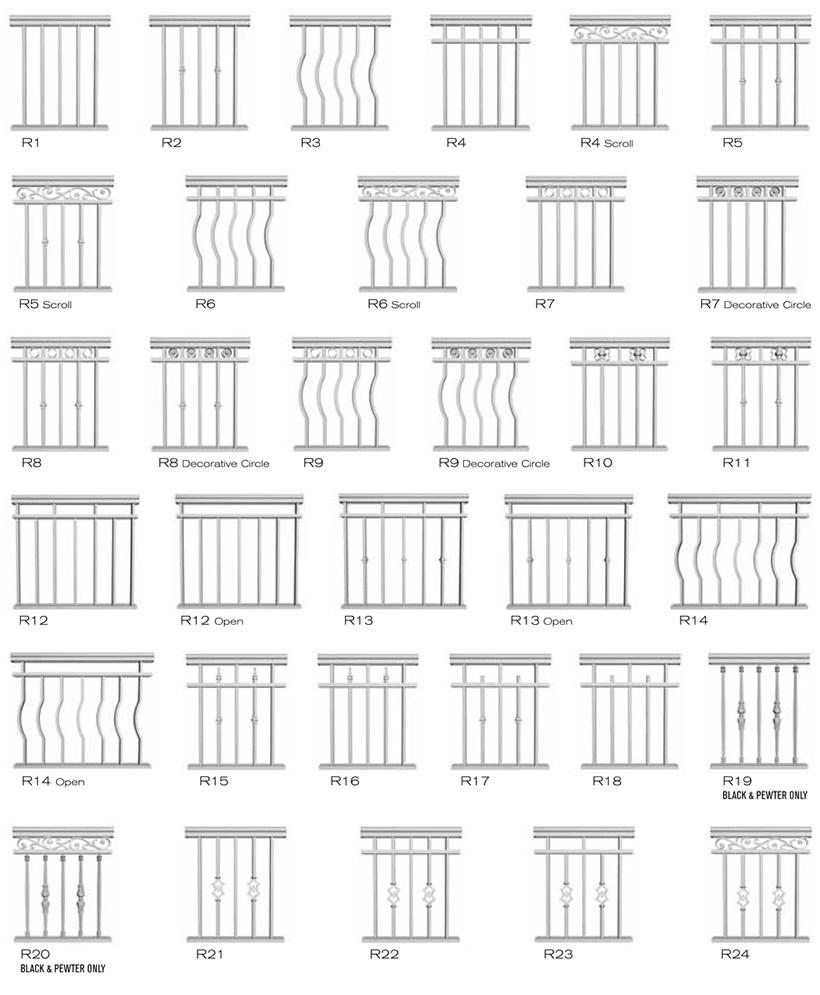 This is our selection of picket railing. Most aluminum railing companies have a large selection of styles and colours
Simple and easy to maintain, straight picket rail mounted to wood columns creates nice contrast and provides a very cost-efficient railings for life.
Life expectancy and maintenance for your deck railing ideas
Your longest lasting railing options are aluminum, vinyl or glass railing. These materials are rust free and if installed correctly can easily last over 100 years. Although, over long periods of time paint does begin to slightly fade, scratches appear over time from traffic on your railing, and glass can become foggy after many years. But the overall integrity and appearance of your railing should easily last your lifetime. Wood and iron on the other hand deteriorate at a much quicker rate through rot and rust. Both require maintenance, either with sealing or painting to protect the material. This is why we would always recommend using aluminum, vinyl, glass or a combination of these materials. Whatever your idea of a new railing for your deck is, you should still clean and inspect it once a month. By cleaning your railing, you will remove and unwanted dirt and dust. This will keep your paint looking fresh and brilliant and stain free for a very long time. Once dirt is left on railing for prolonged periods it becomes difficult to remove and will begin to stain your railings regardless of the material you decided to use. A light soap and rag then followed by a rinse is a great and simple way to clean your railings and remove any dirt and dust. Please remember to always test whatever cleaner you use first in a small less noticeable spot on your railings. All railings are made of different qualities of metal or vinyl and paint. The best way to remove scratches or scuffs on an aluminum railing is by using a product called methyl hydrate. It is cheap and removes scratches and scuffs from handrails, post, pickets and all parts of an aluminum railing system without ruining the paint. You can simply put a small amount on a rag and wipe the smalls scratches out. Warning, always test methyl hydrate on a small section and the bottom of your railing first. Many manufactures use a lower quality of paint and the methyl hydrate could possibly fade or change the colour. But this is all we use for our aluminum railing and it works like magic. Lastly, what you consider is that the more designs and curves and angles the more difficult your railing is to clean. So, when there is a garden or other area of high dirt or traffic, sometimes a simpler railing will require less maintenance when it comes to cleaning.
Any comments, questions or concerns please reach out at terracealuminumrailings.com